Can I Split a Check With Groupon?
Slate's new digital manners show considers the etiquette of online coupons.
Posted Tuesday, May 10, 2011, at 1:34 PM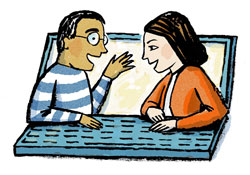 In this week's episode of Manners for the Digital Age, Farhad Manjoo and Emily Yoffe debate the question "what's the etiquette of splitting a check using a pre-paid online coupon?"
You'll find other episodes here:
MYSLATE