Hang Up and Listen: The Troubleshooter, the Faluter, and the Kid Edition
Slate's sports podcast takes your questions in a special year-end call-in show.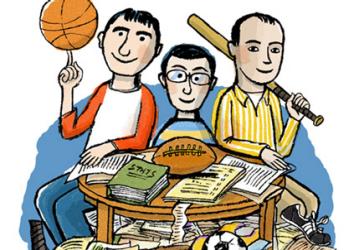 Listen to Hang Up and Listen with Stefan Fatsis, Josh Levin, and Mike Pesca by clicking the arrow on the audio player below:
In this week's episode of Slate's sports podcast Hang Up and Listen, Stefan Fatsis, Josh Levin, and Mike Pesca take listeners' questions in a special year-end call-in show. Topics range from their greatest sports moments to what to watch on TV when you can't sleep to gender bias in the sports media.
Here are links to some of the articles and other items mentioned on the show:
In Slate, Amanda Hess wrote about who Sports Illustrated puts on its covers. Hess also wrote about NFL cheerleaders for ESPN.
The Atlantic and Huffington Post have also reported on gender bias on Sports Illustrated covers.
Sports Illustrated Women didn't last long.
Gary Smith wrote great profiles in Sports Illustrated of Pat Summitt and Jamila Wideman.
Check your local listings for the Australian Football League and the World's Strongest Man competition.
You can also watch Franco Columbu's leg snap.
Stefan recommends all of Jon Hock's films, but The Best That Never Was might be the top pick.
If you haven't seen Hoop Dreams, you should.
Other recommendations include Pumping Iron, When We Were Kings, The Crash Reel, Beyond the Mat, Murderball, Once in a Lifetime, and from ESPN's 30 for 30 series, The Two Escobars and Winning Time: Reggie Miller vs. the New York Knicks.
Josh remembers the 2006 LSU basketball team and watching Darrel Mitchell play in Turkey.
Stefan wrote about Bobby Murcer in Top of the Order.
Mike remembers 1980s St. John's basketball and Chris Mullin.
An article from January in the New York Times prompted a question about kids and college sports.
Podcast production and edit by Mike Vuolo. Links compiled by Chris Laskowski.