Hang Up and Listen: The Flaccid Hagiographic Concatenation Edition
Slate's sports podcast on Fox's baseball broadcasting experiment, Todd Gurley's suspension, and gymnast Simone Biles.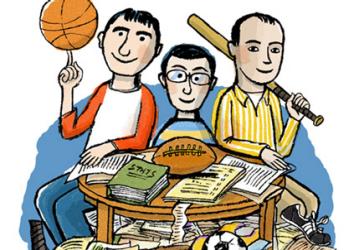 Listen to Hang Up and Listen with Stefan Fatsis, Josh Levin, and Mike Pesca by clicking the arrow on the audio player below:
In this week's episode of Slate's sports podcast Hang Up and Listen, Stefan Fatsis, Josh Levin, and Mike Pesca discuss Fox Sports 1's sabermetric-friendly NLCS broadcast and whether it's a harbinger of changes in sports broadcasting. They debate Georgia's decision to suspend running back Todd Gurley after reports he sold his autograph, how the media should cover violations of NCAA rules, and what might happen to Florida State quarterback Jameis Winston. Finally they talk with gymnastics writer Dvora Meyers about Simone Biles' domination at this year's gymnastics world championships, whether Biles can become an international star, and how the gymnastics world pigeonholes its athletes.
Here are links to some of the articles and other items mentioned on the show:
On this week's Slate Plus bonus segment, Stefan Fatsis, Josh Levin, and Mike Pesca—but mostly Mike—have a Jets kvetch with the Culture Gabfest's Stephen Metcalf. Slate Plus members get an ad-free version of this podcast with bonus segments. Visit slate.com/hangupplus and try it free for two weeks.
Podcast production and edit by Mike Vuolo. Links compiled by Chris Laskowski.