Hang Up and Listen: The Bullies, Boors, and Bucks Edition
Slate's sports podcast on NFL bullies and Hulu's Behind the Mask. Also: Aaron Krickstein discusses his famous match with Jimmy Connors.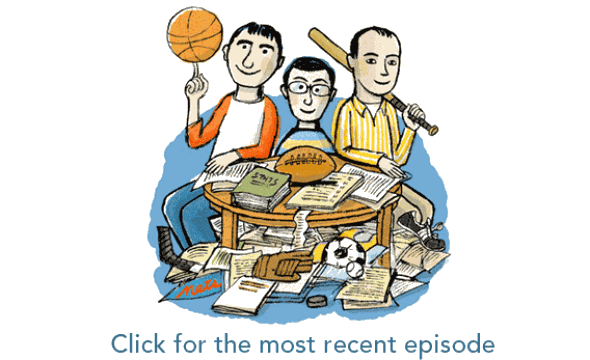 Listen to "Hang Up and Listen" with Stefan Fatsis, Josh Levin, and Mike Pesca by clicking the arrow on the audio player below:
Gelf Magazine's Varsity Letters, New York City's monthly sports reading series, returns to Gallery at LPR on Thursday, Nov. 14 with a night devoted to college football. Featured readers include New York Times columnist Samuel Freedman and author Jim Lefebvre. For more information about this event and future Varsity Letters, visit Gelf Magazine.
Hang Up and Listen has been nominated for the Podcast Award for Best Sports Podcast. Voting will continue until Nov. 15, and you can vote once per day until then.
In this week's episode of Slate's sports podcast Hang Up and Listen, Stefan Fatsis, Josh Levin, and Mike Pesca talk about locker room bullies in the NFL, and the team's decision to suspend offensive lineman Richie Incognito. They also review Hulu's Behind the Mask, a new documentary series on the secret lives of sports mascots. Finally, they're joined by Aaron Krickstein to discuss ESPN's 30 for 30 documentary This Is What They Want and his legendary match with Jimmy Connors at the 1991 U.S. Open.
Here are links to some of the articles and other items mentioned on the show:
Josh and Emily Bazelon in Slate on how the NFL abets bullies like Incognito.
Earlier on Sunday, the Dolphins had released a statement essentially saying that everything was A-OK.
Deadspin reported that Incognito harassed Jonathan Martin with threats and racial slurs, and that Incognito's father has recently taken to message boards to criticize Martin.
Richard Deitsch of Sports Illustrated covered the different ways the various NFL Sunday shows handled the Martin story.
NFL.com's Jeff Darlington wrote a feature on Richie Incognito detailing his efforts to overcome his past problems.
Some of the incidents in Incognito's checkered past: Reports surfaced this August that he'd punched a security guard, though he wasn't arrested; his peers voted him the NFL's second-dirtiest player in 2012; HBO's Hard Knocks showed him messing with a rookie tight end's iPad; he was fined $50,000 for penalties in 2009; he taunted Rams fans in 2008, but he was not disciplined
Incognito and Antonio Smith have a tumultuous history. Smith was suspended for ripping off Incognito's helmet during the preseason. Last year, Smith claimed Incognito had tried to break his ankle. Incognito disputed this.
NFL rookies are frequently forced to contribute exorbitant amounts for meals or trips. Some Bears players forced a few rookies to pick up a $40,000 tab last year. In 2010, Dez Bryant paid a $50,000 restaurant tab as punishment for failing to carry Roy Williams' shoulder pads.
The Hulu page for Behind the Mask. Three episodes are now available, with new ones released each Tuesday.
The Onion's AV Club reviewed Behind the Mask.
The Toronto Raptors mascot sustained a season-ending Achilles injury, and was replaced.
The Denver Nuggets mascot passed out and had to be lowered from the ceiling.
ESPN's 30 for 30 page for This is What They Want.
A Grantland post on the documentary.
The New York Times profiled Aaron Krickstein in 2005.
The Times interviewed Jimmy Connors in August.
Frank Deford wrote a piece for Sports Illustrated on Connors' 1983 U.S. Open victory and Krickstein's debut.
Podcast production and edit by Mike Vuolo. Links compiled by Casey Butterly.