Hang Up and Listen: The Avert Your Eyes Edition
Slate's sports podcast on Kevin Ware's gruesome broken leg and MLB opening day. Also, an interview with Louisville women's basketball coach Jeff Walz.
Listen to "Hang Up and Listen" with Stefan Fatsis, Josh Levin, and Mike Pesca by clicking the arrow on the audio player below:
In this week's episode of Slate's sports podcast Hang Up and Listen, Stefan Fatsis, Josh Levin, and Mike Pesca discuss the NCAA men's regional finals, including Syracuse's ugly win over Marquette, Wichita State's surprising run, and media coverage of Kevin Ware's leg injury. Next, they are joined by Louisville women's basketball coach Jeff Walz to talk about his team's shocking upset over Brittney Griner and Baylor. Finally, they look at the state of baseball economics and whether the Yankees are in a downward spiral.
You can read the transcript of the interview with Louisville women's basketball coach Jeff Walz below.
Here are links to some of the articles and other items mentioned on the show: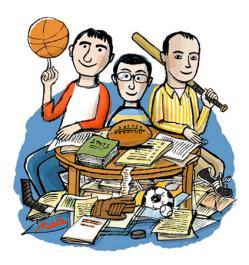 Podcast production and edit by Mike Vuolo. Our intern is Eric Goldwein.
Transcript of interview with Louisville coach Jeff Walz.
JOSH: On Sunday night, the Louisville Cardinals women's team followed up the men's team's victory with one of their own, beating defending national champion Baylor 82-81, ending Brittney Griner's career with one of the biggest upsets in recent years of women's college basketball. We're joined now by Jeff Walz, the coach of Louisville in his sixth season. He led the Cardinals to the national championship game in 2009 and now to the Elite 8 and maybe beyond. Jeff, congratulations and thanks for joining us.
JEFF WALZ: Thank you. I sure appreciate it, guys.
JOSH: Last night's game was a victory partly based on great coaching decisions and partly, I would say, on your team making 16 of 25 three-pointers. I don't know if you want to take credit for that but you can, I think, take credit for the defense of your team and the strategies that you employed against Brittney Griner. Can you talk about what your strategy was going into the game?
JEFF WALZ: Our goal was to try and go out there and just have one in front of her, one behind, straight up and down. We were not trying to foul her in any way. We were just trying to make sure that when she did catch the ball that we were in her space that it was not just going to be an easy catch and turn and shoot for her. Because when that's able to happen for her, I mean, she's pretty much impossible to stop. And then we did a great job of making it hard for them to even throw her the basketball. I think she had [four] shot attempts in the first half. And it got to the point where, I truly believed that, I didn't think they could make enough threes to beat us. So we were going to continue with that game plan and allow them to take open shots. And fortunately for us, we were able to squeeze out that one-point win. But you know, they did start to make some shots in the last four minutes of the game and really put some pressure on us.
STEFAN: Well, in the last four minutes of the game, that's when Shoni Schimmel, your star guard, Native American profiled in our friend Jon Hock's documentary Off the Rez a couple years ago, that's when Shoni fouled out. And she had been unconscious, as had other members of your backcourt. How did Shoni's ability to attack and also just to be very aggressive—personally and physically—with their star players Odyssey Sims and Brittney Griner help sort of set a tone for the game?
JEFF WALZ: Well, it was really important. I mean, I had told our players, you know, for the past three days, we have nothing to lose here—nobody expects you to win. Nobody. Except for the people in this room. And we play like that, you know, Bria Smith makes a great play on the jump ball where she cuts in front, of I think, Odyssey Sims, gets it and goes down and makes a layup. Right off the bat, it's 2-0. And they come down the floor, we foul, I think they made two free throws, and then we make four straight threes. So, we started off well and everybody was expecting us to go cold, but I've seen these kids shoot the basketball all year and when we get open looks, get our feet set, we're a pretty darn good three-point shooting team.
STEFAN: Open looks from like 28. [laughs]
JEFF WALZ: Yeah, I mean we sat there and I'm telling you we did a great job of penetrating into the paint and kicking. We drove through the paint. I told our players, "If you drive in there the odds of you making it are slim to none over her." So, we drive and kick, and just did a spectacular job.
MIKE: Was your game plan against Griner based on something that you'd seen work? Because for the last couple years, even in the games she's lost—they lost to Stanford, she still had 22 points on 9 of 17 shooting. So was it based on something you had actually seen or just the conception of, well, if you were to stop the Wilt Chamberlain of women's basketball, what would you have to do?
JEFF WALZ: It was more based off of what we felt we had to do. Because you know, I had gone back and watched a bunch of film and nobody had really been able to do a great deal with her. But, you know I did watch the Oklahoma State game in the Big 12 tournament where Oklahoma State was down three with a minute-and-a-half [to go]. And everybody wants to talk about the defensive side of it. That's not what won us the basketball game. I told our kids, I told ESPN, I told everybody. We got to figure out a way to score 70 points. They're going to score. Baylor does a great job defending you. We had to figure out a way to score. And I thought if we could score 70, we'd win. But obviously we would have lost by 11 if we had scored 70. So thank goodness we figured out a way to score 82.
JOSH: Alright Jeff. I'm going to play a clip now of your counterpart Kim Mulkey and her press conference after the game.
KIM MULKEY: The game started out way too physical. Way too physical. I thought that all three of them, if they go past this round of officiating, it will be sad for the game. I thought that two critical calls at the end of the game were really bad. Jordan Madden drives in the paint. We already have the missed shot and she calls an offensive foul on Madden right there. But why so late?
JOSH: So, when Kim Mulkey is talking about the game being too physical, I think she's talking about how your players were defending Brittney Griner. And you guys were in her space and, you know, there was a lot of physical contact. It was a tough aggressive job by your defense. Do you feel like in a situation like that, it's really up to the officials to set the terms of how the game is going to be played and it's up to both teams—or your team if you're the one who's defending—to respond to how the game is being called? Or is there a line that you should or should not go over?
JEFF WALZ: You know, they're paying three officials a pretty good amount of money to officiate these games. Then that's their job. But at the same time, at no time did we ever go into this game and say, "Hey, we're trying to foul her as much as we can, and the officials won't call it." They called us for fouls. I mean, we fouled 24 times. They went to the free throw line 26 times. So, you know, it's not that we were over-aggressive or fouled too much. I watched the game last night, and Odyssey Sims at the point guard spot had as much contact with my ball-handlers as we did with Brittney. The difference is, the cameras are just constantly on Brittney in the post. So they're, every time you touch or make contact, they're calling it and pointing it out. But all our ball-handlers, when they're getting bodied up and you know, run off of screens, and they're getting hit when they're handling the ball, nobody makes that big a deal. But the officials make the choice of what they're going to call and I thought our kids did a great job of playing within the rules of the game and just did a wonderful job.
STEFAN: When you try to defend Brittney Griner, your defenders are giving away four to six inches, and I think the physical contact can be magnified in the viewer's eyes simply because it looks like a little person trying to push a big person out of the way.
JEFF WALZ: Sure, you're exactly right.
STEFAN: I'd like to ask you, Jeff, about recruiting Shoni Schimmel and her sister Jude Schimmel, who played enormous minutes yesterday, and I gather she's been playing a lot this season—that wasn't out of the ordinary. When you made the decision to go after her and her sister, the background is very, very different. This is an exceptional, exceptional player. Someone who obviously motivated a filmmaker like Jon to go and follow her while she was in high school. What challenges did you have bringing Shoni to Louisville, very far from her home, very different background from what she was used to growing up, and how has she evolved both as a player and as a member of your team?
JEFF WALZ: I think in the recruiting process, we were just trying to go out there and show her and her family that, Hey, we're here, we're an option, we'd like to try to give Shoni the opportunity to see another part of the country. And she took that chance. I mean, she felt like it was a family environment. We were willing to be an extended family for her. And you know, she goes three-fourths of the way across the country and it's not normal. It's not normal for someone to do that in her background and her heritage. You just don't see it that often. But she took the chance and did it. And then, you know Jude comes the following year, and I think it really helped Shoni to have her sister there. But at the same time it's been neat to watch both of them grow as people. They're both going to finish up and get a college degree and like I always told them, you're always going to be able to go back to the rez and talk to kids out there and say, Hey, you can do this if you want. You can go out here and do it if you want, then you can always come back and help mentor and educate the next wave that comes through. So I'm just really proud of both of them, and Shoni had a spectacular game last night. Played so well, controlled herself, controlled the game, and I was really proud of her.
JOSH: So Shoni made the play of the game, or one of the best plays you'd ever see, going up against Griner in the open court. Reverse layup with her back to the basket. And then, after the ball goes in kind of spectacularly, she gets up in Griner's face.
STEFAN: Her chest actually.

JOSH: Wherever her eyes can reach. Later in the game, Kim Mulkey rips off her jacket and is incredibly angry at the charge call at the end. This was just a very emotional game where you saw a lot of behaviors that are not the stereotypical behaviors of girls in sports. Do you think that this is a positive thing, that this game inspired so much outward emotion and even anger at times?
JEFF WALZ: I think it was fantastic. I think it was a great thing for our game. I think it was a great thing for women's sports in general. We normally don't have these types of upsets. The men's game, we see it all the time. You've got a Wichita State in the Final Four. Our game, it's normally the top four seeds. And you might have a No. 2 seed once in a while get in there or something. But now, you're looking at our side of the Final Four bracket and both one seeds are knocked out. It makes for better basketball for the fact that now I think we can draw more interest from people because it's not the same schools playing in the finals every year. I think that's why the men's basketball is so successful. When it comes March and you're sitting here and it's March Madness, you never know what's going to happen. And I'm hoping that our game can get there at one point in time.
MIKE: I want to ask you about a couple plays. In fact, I think maybe Josh wanted to ask you about how you started the game with a kind of four-on-five configuration. But I want to take it to, there's less than a minute left and Jude Schimmel has just grabbed a rebound. You're up by four. She races up the court and she seems to have a pretty clear lane to the basket. A Baylor player just turns the other way and it's wide open for her. But she goes in, the notation is "missed two-point layup." From my eyes, I don't know if the shot was influenced. Could you tell me—oh, this is the classic what was going through your head—but if you saw it any better, was she blocked, affected by Griner on the block? And, did you really not want her to take that shot?
STEFAN: And if I can just add a coda to that, there were like 19 seconds left on the shot clock and Jude started to drive the lane, were you screaming at her?
JEFF WALZ: I was fine with the shot at that point in time because we had them spread out and it was a four-point game, and you know I was like, Hey, if you can get a layup or a wide-open shot, we're going to take it. But we don't rush anything. And I thought Jude just did a really good job of breaking them down and she had a wide-open layup that Jude normally makes. She just missed it. Now if she had gone over and gotten blocked by Brittney Griner or something, it wouldn't have been a good decision to make. But I thought it was a fine shot. I didn't think there was anything wrong with that at all.
JOSH: Yeah, in the first play of the game, after you guys kind of stole the …
JEFF WALZ: After we got the tip, you know what, we were trying to make things interesting. So we were actually on the tip, expecting them to win the tip, and we actually stole it and Bria Smith goes down and shoots a layup. And then we press them. And our plan was to just send one of us back at the offensive end. And, you know, they come down the floor, they score, Shoni is going to get the ball as quick as she could and throw it the length of the floor and we were going to get a layup. I mean, we had a layup. Just trying to mess with their psyche some. My gosh, what is this team going to do next? I mean, how absurd is that?
MIKE: Did you have a couple more of those wrinkles up your sleeve that we might see later on in the tournament?
JEFF WALZ: We're going to have to figure out a few things, that's for sure. But, we've got a day to put a game plan together and that's what we're going to do.
MIKE: By the way, do you call that the box-and-none defense?
JEFF WALZ: [Laughs] That's exactly right. That's good. I like that.
JOSH: I wanted to ask about one other play—Sara Hammond drawing the charge on Jordan Madden at the end of the game. That was the play that got Kim Mulkey so upset. What did you think about that call? It did look like your player kind of sold the call a little bit, I would say.
JEFF WALZ: Yeah, I mean that's fine. I mean, I thought she sold the call. At the same time, I thought the charging call on Bria Smith that was her fifth foul was a very questionable call, too. They could have gone either way. And she actually had made the layup, Bria Smith did. And that was waived off, and that's her fifth foul. So, you know, on those kinds of things, I think there's plenty of questionable calls that went both ways.
STEFAN: And you got a [technical], too. And what did you say to get that technical foul. Because certainly I was thinking, well ...
JEFF WALZ: I actually just, that's the one time I didn't say anything. They were upset because they said I was outside the coaching box, sitting up on the scorer's table. So they came over and said I'm outside the coaching box. That's why they gave me a technical foul.
STEFAN: Because there was certainly, ample, I think in the viewer's mind, opportunity to give Kim Mulkey a tech when she went ballistic also. So, these things do balance out. But you must have been thinking, Wow, that would have been something at that stage of the game, too.
JEFF WALZ: Yeah. It's one of those where I can't do that. I got to stay in the coaching box. But it is amazing that someone can rip their jacket off, be halfway out on the floor after I got a technical foul for being outside the coaching box, and they aren't going to give one to her. That's the disparity in our game that's unfortunate and hopefully we can somehow get that fixed.
JOSH: On the four-on-five play, and anything else that you say, you know, getting into their heads a little bit. How do you convince your team that that's the right decision to make and that you're not kind of acknowledging that they're the superior team? How do you do a kind of gimmicky play and also sell it like, we're going to beat this team and we're better than them?
JEFF WALZ: We do it all the time. We do different things through different games. We have jump-ball plays we run. We try to get a quick layup. It's just what we do. But, you know, I'm not afraid to admit, and I told our players straight up, I said, if you just roll this ball out and we're playing five-on-five, they're the better basketball team. I mean we don't have [6-foot-8]. So if we would have just tried to play man-to-man, we would not have won. Brittney Griner would have scored 50 on us. I told our kids that. They were quite aware it was going to take a special effort from us to win and part of it was to be able to sit there and knock down threes. And, you know, 16 of 25 sure solves a lot of problems.