Hang Up and Listen: The Tough Stuff Edition
Slate's weekly sports show on improving college basketball, the World Baseball Classic, and MLB's exploitation of Latin American talent.
Listen to "Hang Up and Listen" with Stefan Fatsis, Josh Levin, and Mike Pesca by clicking the arrow on the audio player below:
In this week's episode of Slate's sports podcast Hang Up and Listen, Stefan Fatsis, Josh Levin, and Mike Pesca are joined by ESPN's Jay Bilas to discuss his new book Toughness and his prescription to fix college basketball. Next, they speak with Mother Jones' Ian Gordon about his story on the death of Dominican minor leaguer Yewri Guillen and the exploitation of Latin American baseball players. Finally, they talk about the World Baseball Classic and whether the international competition is worth watching.

Here are links to some of the articles and other items mentioned on the show: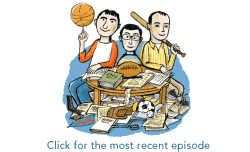 Podcast production and edit by Mike Vuolo. Our intern is Eric Goldwein.