Hang Up and Listen: The Worm in North Korea Edition
Slate's sports podcast on the state of NBA stats, sports ticket economics, and Dennis Rodman's trip to the DPRK.
Listen to "Hang Up and Listen" with Stefan Fatsis, Josh Levin, and Mike Pesca by clicking the arrow on the audio player below:
Hang Up and Listen is brought to you by Stamps.com. Click on the radio microphone and enter HANGUP to get our $110 bonus offer.
Advertisement

In this week's episode of Slate's sports podcast Hang Up and Listen, Stefan Fatsis, Josh Levin, and Mike Pesca are joined by ESPN's director of production analytics and basketball statistics pioneer Dean Oliver to discuss the state of advanced stats in the NBA. They also speak with economist Jeff Ely about "Purple Pricing," Northwestern University's new ticket pricing system. Lastly, they talk about Dennis Rodman's bizarre trip to North Korea and other instances of sports diplomacy.
Here are links to some of the articles and other items mentioned on the show: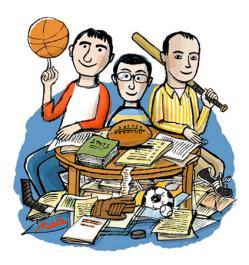 Hang Up and Listen's weekly Ris:
Podcast production and edit by Mike Vuolo. Our intern is Eric Goldwein.
TODAY IN SLATE
Politics
Smash and Grab
Will competitive Senate contests in Kansas and South Dakota lead to more late-breaking races in future elections?