Hang Up and Listen: The Twirling a Hat on a Stick Edition
Slate's sports podcast on the Ravens' Super Bowl win, CBS's coverage of the blackout, and our favorite schoolyard games.
Listen to Hang Up and Listen with Stefan Fatsis, Josh Levin, and Mike Pesca by clicking the arrow on the audio player below:
Hang Up and Listen is brought to you by Stamps.com. Click on the radio microphone and enter HANGUP to get our $110 bonus offer.
In this week's episode of Slate's sports podcast Hang Up and Listen, Stefan Fatsis, Josh Levin, and Mike Pesca recap all the craziness of Super Bowl XLVII, including the blackout, the 49ers' near-comeback, and the Ravens' intentional safety. They also talk about CBS's not-so-hard-hitting interviews with Ray Lewis and Roger Goodell. Next, they talk about their favorite schoolyard games, from dodgeball to punch ball, in response to a Wall Street Journal story about a 23-year game of "It" played by grown men.
Here are links to some of the articles and other items mentioned on the show: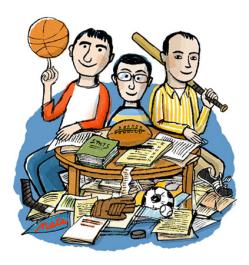 Podcast production and edit by Mike Vuolo. Our intern is Eric Goldwein.