Hang Up and Listen: The Catfish Got Your Tongue Edition
Slate's sports podcast on the Ravens and 49ers, uncovering the Manti Te'o hoax, and Lance Armstrong's calculated confession.
Listen to "Hang Up and Listen" with Josh Levin and Mike Pesca by clicking the arrow on the audio player below:
Hang Up and Listen is brought to you by Stamps.com. Click on the radio microphone and enter HANGUP to get our $110 bonus offer.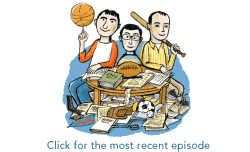 In this week's episode of Slate's sports podcast Hang Up and Listen, Josh Levin and Mike Pesca discuss the Ravens' and 49ers' conference-clinching wins, Bill Belichick's questionable coaching decisions, Bernard Pollard's brutal hit on Stevan Ridley, and the Harbaugh vs. Harbaugh Super Bowl storyline. Next, they speak with Deadspin editor-in-chief Tommy Craggs about breaking the Manti Te'o story and what the hoax says about sports journalism. Finally, they talk about Lance Armstrong's interview with Oprah Winfrey and whether his doping confession was another calculated PR move.

Here are links to some of the articles and other items mentioned on the show:

Podcast production and edit by Mike Vuolo. Our intern is Eric Goldwein.