Hang Up and Listen: The Fistic Cliff Edition
Slate's sports podcast on pro football's record-breaking season, Black Monday in the NFL, and whether the NHL will cancel its season.
Listen to "Hang Up and Listen" with Josh Levin, Mike Pesca, and L. Jon Wertheim by clicking the arrow on the audio player below: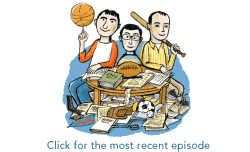 In this week's episode of Slate's sports podcast Hang Up and Listen, Josh Levin, Mike Pesca, and Sports Illustrated's Jon Wertheim discuss how rookie quarterbacks Robert Griffin III and Russell Wilson led their teams to the playoffs and Adrian Peterson came up just short of the single-season rushing record. Next, they talk about the victims of the NFL's "Black Monday," Avery Johnson's firing by the Brooklyn Nets, and the volatility of the coaching profession. Finally, Puck Daddy's Greg Wyshynski joins to assess whether the NHL's players and owners can reach a last-minute agreement.
Here are links to some of the articles and other items mentioned on the show:
Jon's Ratchuk: All aboard the mediocre, hipster-friendly Brooklyn Nets bandwagon.
Podcast production and edit by Mike Vuolo. Our intern is Eric Goldwein.
*Correction, Jan. 6, 2013: This article originally misidentified the Russell Athletic Bowl as the Rutgers Athletic Bowl.