Hang Up and Listen: the Leave Lolo Alone Edition
Slate's sports podcast on Usain Bolt, Andy Murray, Lolo Jones, Ye Shiwen, and all the other big names at the London Games.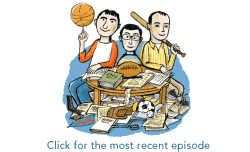 Listen to "Hang Up and Listen" with Josh Levin, Mike Pesca, and L. Jon Wertheim by clicking the arrow on the audio player below:
This episode of Hang Up and Listen is brought to you by GoToMeeting with HD Faces. Click on the Try It Free button and use the promo code HANGUP to get a 30-day free trial.
Hang Up and Listen is also brought to you by Stamps.com. Click on the radio microphone and enter HANGUP to get our $110 bonus offer.
In this week's episode of Slate's sports podcast Hang Up and Listen, Josh Levin, Mike Pesca, and special guest Jon Wertheim discuss the first full week of Olympics action, including Andy Murray and Serena Williams winning tennis gold and Usain Bolt's runaway win in the 100 meters. They also talk about the New York Times' scathing attack on American hurdler-slash-virgin Lolo Jones, the Olympics badminton scandal, and the doping speculation surrounding Chinese swimmer Ye Shiwen.
Here are links to some of the articles and other items mentioned on the show:
Podcast production and edit by Mike Vuolo. Our intern is Eric Goldwein.