Hang Up and Listen: The Hot Hot Dead Heat Edition
Slate's sports podcast on the Jeneba Tarmoh-Allyson Felix controversy, Spain's Euro 2012 victory, and the dawn of a college football playoff.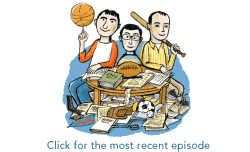 Listen to "Hang Up and Listen" with Stefan Fatsis, Josh Levin, and Mike Pesca by clicking the arrow on the audio player below:
This episode of Hang Up and Listen is brought to you by Ting, which makes mobile phone billing incredibly easy.
In this week's episode of Slate's sports podcast Hang Up and Listen, Stefan Fatsis, Josh Levin, and Mike Pesca discuss the dead heat between Allyson Felix and Jeneba Tarmoh and other Olympic Trials goings on. Franklin Foer also joins the show to discuss Spain's big win over Italy at Euro 2012 and the crazed genius of Italy's Mario Balotelli. Finally, they talk about the arrival at long last of a playoff system in college football.
Here are links to some of the articles and other items mentioned on the show:
Podcast production and edit by Mike Vuolo.