Hang Up and Listen: The Brains and Brawn Edition
Slate's sports podcast on Junior Seau's suicide, the morality of horse racing, and Mariano Rivera.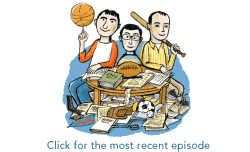 Listen to "Hang Up and Listen" with Stefan Fatsis, Josh Levin, and Mike Pesca by clicking the arrow on the audio player below:
This episode of Hang Up and Listen is brought to you by Stamps.com. Go to Stamps.com, click on the radio microphone, and enter HANGUP to get our $110 bonus offer.
In this week's episode of Slate's sports podcast Hang Up and Listen, Stefan Fatsis, Josh Levin, and Mike Pesca talk about the suicide of ex-NFL star Junior Seau and what effect if any it will have on pro football. They also discuss whether horse racing is immoral and contemplate Yankees reliever Mariano Rivera's torn ACL and the state of the closer in Major League Baseball.
Here are links to some of the articles and other items mentioned on the show:
Hang Up and Listen's weekly racinos:
Podcast production and edit by Mike Vuolo.
TODAY IN SLATE
Medical Examiner
Here's Where We Stand With Ebola
Even experienced international disaster responders are shocked at how bad it's gotten.