Hang Up and Listen: The New Year's on Ice Edition
Slate's sports podcast on the NFL's flops and successes, high-scoring college football bowls, and the NHL's Winter Classic.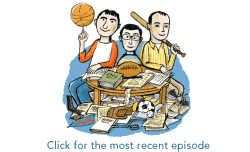 Listen to "Hang Up and Listen" with Stefan Fatsis, Josh Levin, and Mike Pesca by clicking the arrow on the audio player below:
In this week's episode of Slate's sports podcast Hang Up and Listen, Stefan Fatsis, Josh Levin, and Mike Pesca discuss the Jets' woes, the Colts' firing of the Polians, and the outlook for the NFL's 12 playoff teams. They also talk about whether the thrill is gone from high-scoring college football bowl games. Finally, Puck Daddy's Greg Wyshynski joins the show to assess the 2012 Winter Classic and the state of head injuries in the NHL.
Here are links to some of the articles and other items mentioned on the show:
Stefan's Bryzgalov: The NBC Sports Network documentary Cold War on Ice on the 1972 hockey series between Canada and the USSR. (Here are the calls of the Game 8-winning goal by Foster Hewitt and Bob Cole.)
Podcast production and edit by Mike Vuolo.