Hang Up and Listen: The Beast Mode Edition
Slate's sports podcast on the pass-happy NFL, baseball team chemistry, and fighting in the NHL.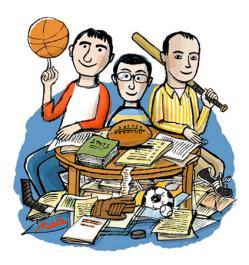 Become a fan of Hang Up and Listen on Facebook. Leave us a note, answer Mike's trivia question, and see what other listeners have to say about the latest podcast.
In this week's episode of Slate's sports podcast Hang Up and Listen, Stefan Fatsis, Josh Levin, and Mike Pesca discuss the record passing numbers in the NFL and the Boston Red Sox's alleged problems with team chemistry (and the Milwaukee Brewers' supposedly amazing chemistry). The National Post's Bruce Arthur also joins the show to talk about whether the NHL will ban fighting and the meaning of Sidney Crosby's prolonged absence from the game.
Here are links to some of the articles and other items mentioned on the show:
Podcast production and edit by Mike Vuolo.