Hang Up and Listen: The Crown Prince of Paranoia Edition
Slate's sports podcast on the baseball playoffs, Al Davis, Morgan Spurlock's The Dotted Line, and the WNBA.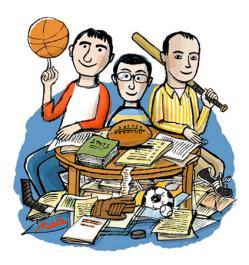 Become a fan of Hang Up and Listen on Facebook. Leave us a note, answer Mike's trivia question, and see what other listeners have to say about the latest podcast.
In this week's episode of Slate's sports podcast Hang Up and Listen, Stefan Fatsis, Josh Levin, and Mike Pesca discuss the fairness (or unfairness) of Major League Baseball's playoff format. They also talk about the legacy of Raiders owner Al Davis and recent portrayals of sports agents by documentarian Morgan Spurlock and CBS' 60 Minutes. Finally, Kelly Loeffler, a co-owner of WNBA finalist Atlanta Dream, will join us to discuss the state of women's pro basketball.
Here are links to some of the articles and other items mentioned on the show:
Hang Up and Listen's weekly El Bagos:

Podcast production and edit by Mike Vuolo.