Hang Up and Listen: The Hope Solo Durant Edition
Slate's sports podcast on Team USA's stirring Women's World Cup win, ballpark fatalities, and locked-out NBA players going overseas.
Posted Monday, July 11, 2011, at 5:39 PM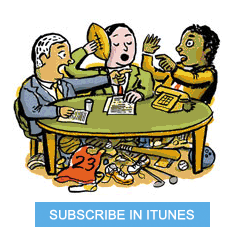 Become a fan of Hang Up and Listen on Facebook. Leave us a note, answer Mike's trivia question, and see what other listeners have to say about the latest podcast.
In this week's episode of Slate's sports podcast Hang Up and Listen, Josh Levin, Mike Pesca, and guest Franklin Foer are joined by Stefan Fatsis to talk about the stunning U.S. victory over Brazil in the Women's World Cup. Josh, Mike, and Frank also discuss the history of fatalities at baseball stadiums with Robert Gorman, the author of the book Death at the Ballpark. For their last topic, they ponder whether the NBA lockout will push players to take their talents overseas.
Here are links to some of the articles and other items mentioned on the show:
Podcast production and edit by Abdullah Rufus.
MYSLATE
Franklin Foer is editor at large of the New Republic. He is the author of How Soccer Explains the World.
Josh Levin is Slate's executive editor. You can email him at sportsnut@slate.com, visit his Web site, and follow him on Twitter.
Mike Pesca is a correspondent for National Public Radio who covers mostly sports.
Illustration by Robert Neubecker.