Hang Up and Listen: The LeBron in Cement Edition
Listen to Slate's podcast about the week in sports.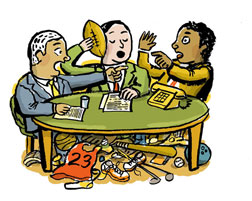 Listen to "Hang Up and Listen" with Stefan Fatsis, Josh Levin, and Mike Pesca by clicking the arrow on the audio player below:
Like Hang Up and Listen on Facebook. Leave us a note, answer Mike's trivia question, and see what other listeners have to say about the latest podcast.
In this week's episode of Slate's sports podcast, Hang Up and Listen, Stefan Fatsis, Josh Levin, Mike Pesca discuss LeBron James' ouster from the NBA playoffs, the Philadelphia Flyers' comeback from a 3-0 deficit to beat the Boston Bruins in the NHL playoffs, the role of genetics in determining athletic stardom, and the U.S. national team's chances in the upcoming World Cup.
Here are links to some of the articles and other items mentioned on the show:
Podcast production and edit by Abdullah Rufus.