Hang Up and Listen: The Redskins and Indians Edition
Listen to Slate's podcast about the week in sports.
Posted Monday, April 19, 2010, at 5:09 PM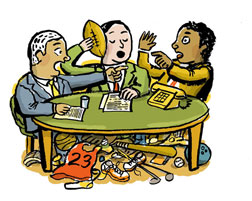 Listen to "Hang Up and Listen" with Josh Levin, Mike Pesca, and special guest Dave McKenna by clicking the arrow on the audio player below:
Become a fan of Hang Up and Listen on Facebook. Leave us a note, answer Mike's trivia question, and see what other listeners have to say about the latest podcast.
In this week's episode of Slate's sports podcast Hang Up and Listen, Josh Levin, Mike Pesca, and special guest Dave McKenna discuss the start of the NBA and NHL playoffs, the quarterbacks who'll likely be selected at the top of the NFL draft, Ben Roethlisberger's likely NFL suspension, and ESPN's documentary No Crossover: The Trial of Allen Iverson.
Here are links to some of the articles and other items mentioned on the show:
Podcast production and edit by Abdullah Rufus.
MYSLATE
Josh Levin is Slate's executive editor. You can email him at sportsnut@slate.com, visit his Web site, and follow him on Twitter.
Dave McKenna is a writer in Washington D.C.

Mike Pesca is a correspondent for National Public Radio who covers mostly sports.
Illustration by Robert Neubecker.