Hang Up and Listen: The Hug To Remember Edition
Listen to Slate's podcast about the week in sports.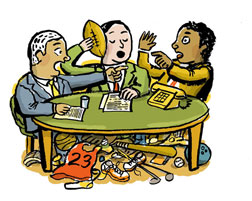 Listen to "Hang Up and Listen" with Stefan Fatsis, Josh Levin, and Mike Pesca by clicking the arrow on the audio player below:
Become a fan of Hang Up and Listen on Facebook. Leave us a note, answer Mike's trivia question, and see what other listeners have to say about the latest podcast.
In this week's episode of Slate's sports podcast, Hang Up and Listen, Stefan Fatsis, Josh Levin, and Mike Pesca discuss Tiger Woods' return to golf and Phil Mickelson's win at the Masters, the kerfuffle over whether Yankees and Red Sox games take too long, the mare Zenyatta's record-tying 16th-straight victory, and the dumb questions NFL teams ask potential draftees.
Here are links to some of the articles and other items mentioned on the show:
Stefan's debunking of the proper-nouns-are-now-allowed-in-Scrabble myth.
Slate's complete coverage of Tiger Woods.
Phil Mickelson won the Masters by three shots.
The Washington Post's Thomas Boswell wrote that "Phil Mickelson is a man in full."
Masters Chairman Billy Payne said Woods "disappointed all of us and more importantly our kids and grandkids."
Woods calls his Masters "unsuccessful."
Woods tells himself, "You suck, god dammit!"
Umpire Joe West called the slow-playing Red Sox and Yankees pathetic, embarrassing, and a disgrace.
The Yankees' Mariano Rivera and the Red Sox's Dustin Pedroia give West the business.
Minnesota Twins manager Ron Gardenhire says West can get away with saying such things because he's "got tenure."
West made CC Sabathia change his shoes because they weren't the right color.
Major League Baseball's Bob Watson says that games are long, in part, because players want to mug for the cameras.
Baseball Prospectus study on pitch counts and the length of games.
The NHL and NFL have both enacted measures to make games shorter.
Zenyatta won her 16th race in a row at Friday's Apple Blossom Stakes.
In Slate, Edward McClelland explained how a female horse can beat all the male competition.
Zenyatta's Facebook page.
On ESPN.com, Claire Novak describes the "Zenyatta Dance": "neck arched, front legs prancing."
The rivalry between Zenyatta fans and Rachel Alexandra rooters.
The dumb question the Redskins asked Arthur Moats about Brian Orakpo's chair.
Many players have been asked whether they would prefer to be a cat or a dog.
The Tampa Bay Bucs asked Myron Rolle whether he deserted his team by taking a Rhodes scholarship.
Sample questions from Microsoft interviews, including, "Explain a scenario for testing a salt shaker."
Podcast production and edit by Abdullah Rufus.