Hang Up and Listen: The Skinny, Skilled Big Man Edition
Listen to Slate's podcast about the week in sports.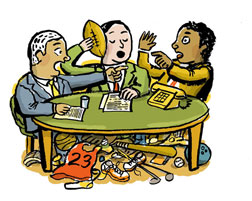 Listen to "Hang Up and Listen" with Stefan Fatsis, Josh Levin, and Mike Pesca by clicking the arrow on the audio player below:
You can also download the podcast, or you can subscribe to the weekly Hang Up and Listen podcast feed in iTunes. (If you'd prefer to subscribe to the podcast in a program other than iTunes, here's the direct link to the Hang Up and Listen RSS feed.)
Become a fan of Hang Up and Listen on Facebook. Leave us a note, answer Mike's trivia question, and see what other listeners have to say about the latest podcast.
In this week's episode of Slate's sports podcast, Hang Up and Listen, Stefan Fatsis, Josh Levin, and Mike Pesca discuss the NCAA tournament, Tiger Woods' return to golf, the Nationals sending pitching phenom Stephen Strasburg to the minors, and the Minnesota Twins signing Joe Mauer to an eight-year, $184 million contract.
Here are links to some of the articles and other items mentioned on the show:
The New York Times' Pete Thamel on whether teams like Northern Iowa are seeded unfairly in the NCAA tournament.
Sports Illustrated's Albert Chen on how Northern Iowa became a tournament contender.
A report commissioned by basketball scout Dave Telep on how mid-major teams get their talent.
How star players Jeff Foote and Ryan Wittman got to Cornell.
Bill Simmons and Chuck Klosterman talk about Duke basketball and race.
Tiger Woods' five-minute interviews with ESPN and the Golf Channel.
Woods' X-rated text messages, courtesy his alleged mistress Joslyn James.
Josh's Slate piece imagining the other half of the Woods-James conversation.
Will Woods' Masters appearance be broadcast live?
Bob Raissman of the New York Daily News says CBS announcers won't talk about the Woods scandal during the Masters.
Gary McCord got booted from the Masters broadcast team for making a joke about bikini wax.
The Washington Post's Dave Sheinin on why Stephen Strasburg's demotion is all about money.
The New York Times' Benjamin Hoffman on the economic calculus teams use to figure out when to promote players to the majors.
The Minnesota Twins re-signed catcher Joe Mauer to a $184 million contract.
Hang Up and Listen's weekly Farokhmaneshes:
Mike's Farokhmanesh: college basketball's greatest chant —"winning team/ losing team."
Stefan's Farokhmanesh: drug scandals in wheelchair curling and the Iditarod.
Josh's Farokhmanesh: Does athletic success increase a school's enrollment and alumni donations?
Podcast production and edit by Abdullah Rufus.
You can e-mail us at hangup@slate.com.
Posted on March 22, by Josh Levin at 4:03 p.m.
Become a fan of Slate on Facebook. Follow us on Twitter.