Hang Up and Listen: The Fight at TGI Friday's Edition
Listen to Slate's podcast about the week in sports.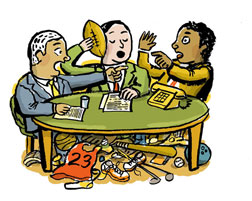 Listen to "Hang Up and Listen" with Josh Levin, Mike Pesca, and special guest Dave McKenna by clicking the arrow on the audio player below:
You can also download the podcast, or you can subscribe to the weekly Hang Up and Listen podcast feed in iTunes. (If you'd prefer to subscribe to the podcast in a program other than iTunes, here's the direct link to the Hang Up and Listen RSS feed.)
Become a fan of Hang Up and Listen on Facebook. Leave us a note, answer Mike's trivia question, and see what other listeners have to say about the latest podcast.
In this week's episode of Slate's sports podcast, Hang Up and Listen, Josh Levin, Mike Pesca, and special guest Dave McKenna discuss the second weekend of the NCAA tournament, Urban Meyer's fracas with a newspaper reporter, and the state of professional wrestling.
Here are links to some of the articles and other items mentioned on the show:
Dave's "Cheap Seats" column for the Washington City Paper.
Dave's story about Rod Strickland, Chico DeBarge, and a fight at TGI Friday's.
Luke Winn's story about Butler for SI.com.
Rivals.com's high school basketball rankings from 2006 and 2007.
The New York Times' Thayer Evans on Scott Drew's coaching ability.
Gus Johnson on Butler's Gordon Hayward: "Don't let the smooth taste fool you."
The Gus Johnson soundboard.
Video of Urban Meyer confronting the Orlando Sentinel's Jeremy Fowler. (Meyer later apologized.)
The Fowler story that got Meyer in a tizzy, headlined "Florida Gators WR Deonte Thompson Sounds Happy To Usher In Post-Tebow Era."
Deadspin's Barry Petchesky quotes an anonymous reporter who says Fowler "has a history of playing 'gotcha' with selective quotes."
Fowler's take on what happened.
Florida's players were happy Meyer went after the reporter.
University of Montana coach Bobby Hauck blackballed the school's student newspaper for writing about an alleged assault perpetrated by Montana players.
The back story behind Oklahoma State coach Mike Gundy's "I'm a man, I'm 40!" rant.
Cowboys quarterback Bobby Reid, who Gundy was supposedly defending, says the coach's speech "basically ended my life."
World Wrestling Entertainment's Wrestlemania XXVI.
Wrestling Observer's Dave Meltzer live-blogged Wrestlemania.
The Hollywood Reporter on the economics of Wrestlemania.
Georges St. Pierre beat Dan Hardy at UFC 111.
USA Today's recap of UFC 111.
Linda McMahon is running for Senate in Connecticut.
McMahon's opponent Rob Simmons has created a Web video linking McMahon to the deaths of wrestlers who allegedly took steroids.
Hang Up and Listen's weekly LaceDariuses:
Mike's LaceDarius: Former University of Washington star Nate Robinson's anger at the refs during the Huskies' loss to West Virginia.
Dave's LaceDarius: Will Washington Redskins owner Dan Snyder, who drove Six Flags into the ground, extend his reign of terror to the cineplex?
Josh's LaceDarius: The curiously long Wikipedia entry devoted to football player Marquise Walker, mostly written by the online encyclopedia's bard of Michigan athletics TonyTheTiger.
Podcast production and edit by Abdullah Rufus.
You can e-mail us at hangup@slate.com.
Become a fan of Slate on Facebook. Follow us on Twitter.