The Between Two Ferns Gabfest
Listen to Slate's show about the showdown between the Senate and the CIA, the Republican win in Florida-13, and Obama's interview with Zach Galifianakis.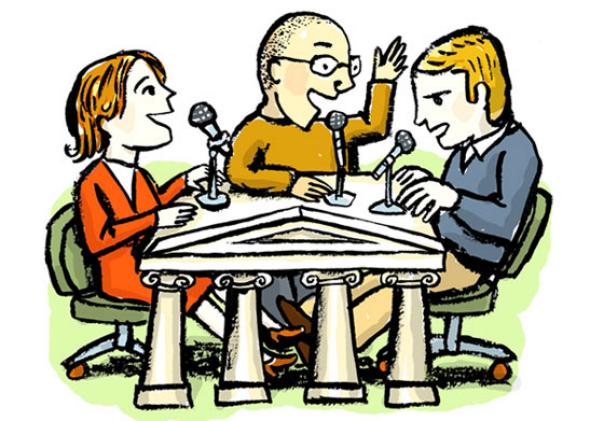 Become a fan of the Political Gabfest on Facebook. We post to the Facebook page throughout the week, so keep the conversation going by joining us there. Or follow us @SlateGabfest!
To listen to the discussion, use the player below:
Slate's new political interview podcast, Weigelcast, starts this Sunday! For the first episode, Dave Weigel will interview Howard Dean. You can find it in the iTunes Store.
On this week's Slate Political Gabfest, Emily Bazelon, John Dickerson, and David Plotz discuss Sen. Dianne Feinstein's claims that the CIA spied on Senate staffers, what David Jolly's victory in Florida means for midterm elections, and why Obama went between two ferns with Zach Galifianakis.
Here are some of the links and references mentioned during this week's show:
Emily chatters about a father who sued to be in the delivery room when his child was born.
John chatters about Kevin Cook's new book debunking some of the myths about Kitty Genovese's murder.
David chatters about the feud between Provincetown and Plymouth over where the Pilgrims landed first.
Listener Daniel Westreich wrote this week's credits, which were in the form of a Shakespearean sonnet.
Topic ideas for next week? You can tweet suggestions, links, and questions to @SlateGabfest. The email address for the Political Gabfest is gabfest@slate.com. (Email may be quoted by name unless the writer stipulates otherwise.)
Podcast production by Mike Vuolo. Links compiled by Rebecca Cohen.