The 2013 Conundrums Gabfest
Listen to Slate's special year-end show about life's most confounding questions, as submitted by listeners.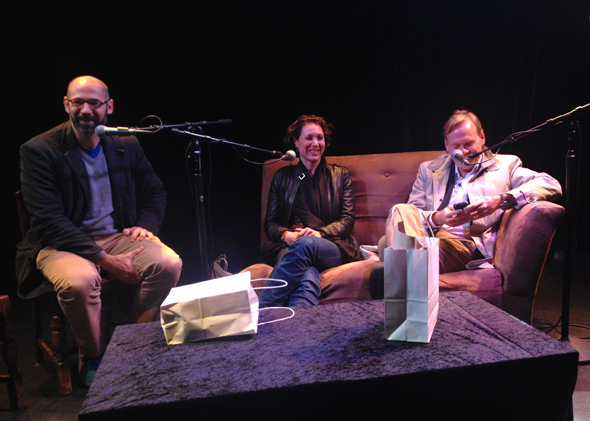 Become a fan of the Political Gabfest on Facebook. We post to the Facebook page throughout the week, so keep the conversation going by joining us there. Or follow us @SlateGabfest!
To listen to the discussion, use the player below:
On this week's Slate Political Gabfest, recorded live at the Rickshaw Stop in San Francisco, Emily Bazelon, John Dickerson, and David Plotz wrap up 2013 by wrestling with questions of politics, philosophy, ethics, taste, and parenting practices.
Here's a list of the conundrums discussed, along with the names of the people who posed them (where available):
Would you rather be funnier or smarter than you are?
You have a wonderful child. You discover when the child is 1 year old that because of a mix-up at the hospital, the child is not actually yours. Do you try to return it to its biological parents? –Jody Avirgan of Ask Roulette
You are now president of your alma mater. Because of budgetary concerns, you have to cut a department. Which one do you cut? –Matt Cook
Who would you travel back in time to kill? It can't be Hitler, Mao, or Stalin. –Phil Goldstein
Since an individual vote never makes a difference, why should you bother to vote? –Julius Schorzman
If you were president, would you rather be remembered for having really great domestic policy and really lousy foreign policy, or the reverse? –Alex
Which fictional character would you want to be (for a relatively short period)? –Phil Goldstein
Part I: You are standing next to a train switch. A train is barreling down the track. If it continues on its current path, it will run over five people who are tied to the tracks. If you flip the switch, the train will change tracks and run over one person. Do you flip the switch? Part II: You're standing on a bridge over the track. A train is coming, and there are five people tied to the track. However, you happen to be standing next to a fat person, and if you throw him/her off the bridge, the person's body will stop the train. Do you do it?
If you were running for Congress, would you rather it come out that you're gay or that you're an atheist?
What do we do when we can't find a conclusive answer, legally or morally, in rape accusation cases like the one involving Jameis Winston?
Should you have kids before you're 25 or after you're 35? –Sidney Innerebner
Would you rather have a great job and live in a not-so-great city, or a mediocre job in an awesome city? –Glenn Shepard
Would you rather be very ignorant and very happy, or very intelligent and very unhappy?
You're going to eat pie. You can only be guaranteed excellence in either the crust or the filling. Which would you pick? –Clara Jeffrey
John, Emily, David, and special guest Clara Jeffrey of Mother Jones chattered about their favorite moments in 2013.
Emily's favorite moment was the Supreme Court's gay marriage decisions.
Topic ideas for next week? You can tweet suggestions, links, and questions to @SlateGabfest. The email address for the Political Gabfest is gabfest@slate.com. (Email may be quoted by name unless the writer stipulates otherwise.)
Podcast production by Andy Bowers and Mike Vuolo. Links compiled by Rebecca Cohen.