The "Washington Is Really Not So Bad" Edition
Listen to Slate's show about what works in Washington. Plus, what Billy Lynn's Long Halftime Walk says about modern war.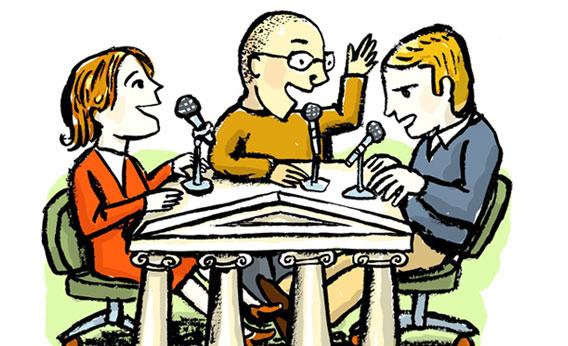 Become a fan of the Political Gabfest on Facebook. We post to the Facebook page throughout the week, so keep the conversation going by joining us there. Or follow us @SlateGabfest!
To listen to the discussion, use the player below:
Live Dear Prudence! Washington, D.C., Sept. 11, 7p.m. Join David as he questions Slate's 'Dear Prudence' columnist Emily Yoffe about her most memorable letters. Tickets.
Live DoubleX Gabfest! Washington, D.C., Sept. 18, 7p.m. Tickets.
On this week's Slate Political Gabfest, Emily Bazelon, John Dickerson and David Plotz discuss what Washington does well. Then, they reflect on how to talk to children about difficult subjects such as politics and race. And finally, they discuss Ben Fountain's critically acclaimed novel, Billy Lynn's Long Halftime Walk, a fascinating reflection on how we deal with the soldiers fighting our current wars.
Here are some of the links and references mentioned during this week's show:
David chatters about John Lewis, Katharine Graham, and other people who deserve monuments. Propose your ideas for new monuments on the Gabfest Facebook page.
Topic ideas for next week? You can tweet suggestions, links, and questions to @SlateGabfest. The email address for the Political Gabfest is gabfest@slate.com. (Email may be quoted by name unless the writer stipulates otherwise.)
Podcast production by Mike Vuolo and Andy Bowers. Links compiled by Jeff Friedrich.