The Terrifying, Looming, Touching-the-Void Awfulness Gabfest
Listen to Slate's show about why Obama might bomb Syria. Also, the fall forecast for U.S. politics, and the lessons of summer vacation.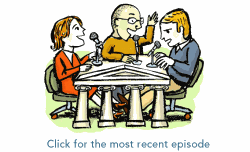 Become a fan of the Political Gabfest on Facebook. We post to the Facebook page throughout the week, so keep the conversation going by joining us there. Or follow us @SlateGabfest!
To listen to the discussion, use the player below:
Live 'Dear Prudence!' Washington, D.C., Sept. 11, 7p.m. Join David as he questions Slate 'Dear Prudence' columnist Emily Yoffe about her most memorable letters. Tickets.
Live DoubleX Gabfest! Washington, D.C., Sept. 18, 7p.m. Tickets.
Live Culture Gabfest! Brooklyn, Sept. 24. Tickets.
On this week's Slate Political Gabfest, Emily Bazelon, John Dickerson, and David Plotz discuss the President's tentative plan to attack Syria in retaliation for the Assad government's alleged use of chemical weapons. They also discuss the debt ceiling, immigration, and other challenges that confront Congress when it returns to Washington. Finally, they reflect on lessons learned during their summer vacations.
Here are some of the links and references mentioned during this week's show:
Topic ideas for next week? You can tweet suggestions, links, and questions to @SlateGabfest. The email address for the Political Gabfest is gabfest@slate.com. (Email may be quoted by name unless the writer stipulates otherwise.)
Podcast production by Andy Bowers. Links compiled by Jeff Friedrich.