The "Friend of My Enemy Is Not Aiding My Enemy" Gabfest
Listen to Slate's show about the Bradley Manning verdict, Edward Snowden's move, and the latest NSA revelations. Plus, the specter of Clinton fatigue.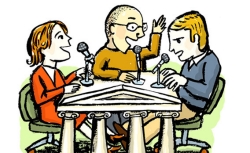 Become a fan of the Political Gabfest on Facebook. We post to the Facebook page throughout the week, so keep the conversation going by joining us there. Or follow us @SlateGabfest!
To listen to the discussion, use the player below:
On this week's Slate Political Gabfest, John Dickerson and Emily Bazelon are joined by special guest Todd Purdum, contributing editor for Vanity Fair and senior writer at Politico. They discuss the Bradley Manning verdict and the latest news about Edward Snowden and the NSA. Then, they discuss how the Justice Department plans to regain its oversight of Texas election law after the Supreme Court's June ruling on the Voting Rights Act. Plus, they assess the state of Clinton fatigue.
Here are some of the links and references mentioned during this week's show:
Todd chatters about how Senator Everett Dirksen's strange gargling habits helped pass the Civil Rights Act of 1964.
Topic ideas for next week? You can tweet suggestions, links, and questions to @SlateGabfest. The email address for the Political Gabfest is gabfest@slate.com. (Email may be quoted by name unless the writer stipulates otherwise.)
Podcast production by Mike Vuolo. Links compiled by Jeff Friedrich.