The Argle-Bargle Gabfest
Listen to Slate's show about the Supreme Court's momentous rulings on same-sex marriage and the Voting Rights Act. Plus, an epic filibuster in Texas.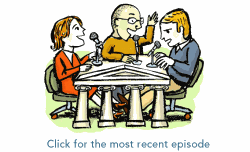 Become a fan of the Political Gabfest on Facebook. We post to the Facebook page throughout the week, so keep the conversation going by joining us there. Or follow us @SlateGabfest!
To listen to the discussion, use the player below:
Chicago Live Show: Wednesday, July 10, 7 p.m., at the Thorne Auditorium on the Chicago campus of Northwestern University. Tickets and additional information. Now with special guest Peter Sagal, host of NPR's "Wait Wait … Don't Tell Me!"
On this week's Slate Political Gabfest, Emily Bazelon, John Dickerson, and David Plotz discuss the Supreme Court's historic rulings on same-sex marriage and the Voting Rights Act of 1965. They also discuss why an epic filibuster in the Texas senate riveted the country's attention.
Here are some of the links and references mentioned during this week's show:
Eric Posner, writing in a Slate email exchange with Emily, Richard Posner, and Walter Dellinger, says there's no clear constitutional reason for striking down DOMA.
Emily's reply expands on her comments in the podcast—she thinks that while Justice Kennedy's decision may not pass the constitutional lawyer test, it does pass the common sense test.
The court sidestepped Hollingsworth v. Perry, arriving at a decision on standing that Walter Dellinger previewed in Slate in 2010.
What now for the GOP? "It was a busy week in existential threats to the Republican Party," writes John.
The 2007 New York Times wedding announcement of Edith Windsor, the plaintiff in the challenge to DOMA.
Emily compares the "argle-bargle" of Kennedy and Scalia to Justice Roberts, who wrote a quieter opinion on the VRA that "takes away one of the most important tools for ensuring minority rights that Congress has ever created."
Nate Silver wrote about voting trends in the country's majority-minority congressional districts.
The abortion battle is a reminder that Texas liberals do exist, writes Amanda Marcotte.
A recent National Journal poll finds that 48 percent of Americans support a 20-week abortion ban.
Topic ideas for next week? You can tweet suggestions, links, and questions to @SlateGabfest. The email address for the Political Gabfest is gabfest@slate.com. (Email may be quoted by name unless the writer stipulates otherwise.)
Podcast production by Mike Vuolo. Links compiled by Jeff Friedrich.