The "Whoops, Did I Really Just Hand the 2000 Election to Bush?" Gabfest
Listen to Slate's show about the hunger strike at Gitmo, Congress' FAA fix, and Sandra Day O'Connor's Supreme Court regrets.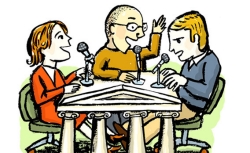 Become a fan of the Political Gabfest on Facebook. We post to the Facebook page throughout the week, so keep the conversation going by joining us there. Or follow us @SlateGabfest!
To listen to the discussion, use the player below:
Chicago Live Event—GE and Slate present: The 2013 Roadshow for Growth Chicago, with Rahm Emanuel and Slate Group Chairman Jacob Weisberg. A limited number of public tickets may become available; for more info visit Slate.com/RFGChicago.
On this week's Slate Political Gabfest, Emily Bazelon, John Dickerson, and David Plotz discuss the morass at Guantánamo Bay, including the ongoing prisoner hunger strike, a prisoner's memoir excerpted on Slate, and what President Obama can do to finally close the detention center. They also discuss Congress' quick fix to stop flight delays caused by FAA furloughs, and retired Supreme Court Justice Sandra Day O'Connor's recent expression of regret about the landmark Bush v. Gore case.
Here are some of the links and references mentioned during this week's show:
Emily chatters about 42, a film about Jackie Robinson.
Topic ideas for next week? You can tweet suggestions, links, and questions to @SlateGabfest. The email address for the Political Gabfest is gabfest@slate.com. (Email may be quoted by name unless the writer stipulates otherwise.)
Podcast production by Mike Vuolo. Links compiled by Jeff Friedrich.