The an Apple a Day Keeps the Taxes Away Gabfest
Listen to Slate's show about Apple's taxes, Obama's new drone policy, and the debate over education reform.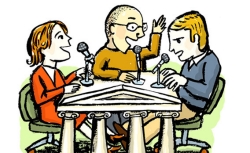 Become a fan of the Political Gabfest on Facebook. We post to the Facebook page throughout the week, so keep the conversation going by joining us there. Or follow us @SlateGabfest!
To listen to the discussion, use the player below:
This week's Audible recommendation is The Wild Ones: A Sometimes Dismaying, Weirdly Reassuring Story About Looking at People Looking at Animals in America, by Jon Mooallem. Try Audible free for 30 days and get a free audiobook by visiting AudiblePodcast.com/Gabfest.
This week's Audible recommendation came from Roman Mars. Check out Roman's great podcast, 99% Invisible.
On this week's Slate Political Gabfest, John Dickerson, Emily Bazelon, and David Plotz discuss how Apple and other corporations avoid paying U.S. corporate taxes. They also discuss Obama's new drone policy and the debate over education reform.
Here are some of the links and references mentioned during this week's show:
David chatters about Eurovision—and pitches a U.S. version.
Topic ideas for next week? You can tweet suggestions, links, and questions to @SlateGabfest. The email address for the Political Gabfest is gabfest@slate.com. (Email may be quoted by name unless the writer stipulates otherwise.)
Podcast production by Mike Vuolo. Links compiled by Jeff Friedrich.