The Everybody's Back Hurts Gabfest
Listen to Slate's show about gay marriage before the Supreme Court, the status of gun control legislation 100 days after Newtown, and This American Life's investigation of disability benefits.
Become a fan of the Political Gabfest on Facebook. We post to the Facebook page throughout the week, so keep the conversation going by joining us there. Or follow us @SlateGabfest!
To listen to the discussion, use the player below:
On this week's Slate Political Gabfest, Emily Bazelon, John Dickerson, and David Plotz discuss the Supreme Court's hearings on two momentous gay marriage cases, one involving California's Proposition 8 and the other focusing on the federal Defense of Marriage Act (DOMA). They also consider what progress has been made on gun control legislation 100 days after the Newtown shooting. Plus, the Gabfesters discuss This American Life's investigation of why more Americans are receiving disability benefits.
Here are some of the links and references mentioned during this week's show: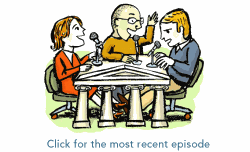 Topic ideas for next week? You can tweet suggestions, links, and questions to @SlateGabfest. The email address for the Political Gabfest is gabfest@slate.com. (Email may be quoted by name unless the writer stipulates otherwise.)
Podcast production by Mike Vuolo. Links compiled by Jeff Friedrich.