The Drone On Gabfest
Listen to Slate's show about Obama's drone policy, a preview of the State of the Union, and a plan to fix the deficit.
Become a fan of the Political Gabfest on Facebook. We post to the Facebook page throughout the week, so keep the conversation going by joining us there. Or follow us @SlateGabfest!
To listen to the discussion, use the player below:
Special offer for Gabfest listeners! Pre-order Emily's new book, Sticks and Stones, before Feb. 19 and receive a signed book plate. Plus, you'll be entered in a raffle for other Gabfest prizes! Additional information.
Here are some of the links and references mentioned during this week's show: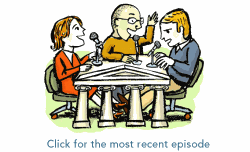 David chatters about … cocktails! He recommends rye and Bar Hill Gin.
Topic ideas for next week? You can tweet suggestions, links, and questions to @SlateGabfest. The email address for the Political Gabfest is gabfest@slate.com. (Email may be quoted by name unless the writer stipulates otherwise.)
Podcast production by Mike Vuolo. Links compiled by Jeff Friedrich. Executive Producer: Andy Bowers.