The 2012 Conundrums Gabfest
Listen to Slate's special year-end show featuring the conundrums that stumped us in 2012.
To listen to the discussion, use the player below: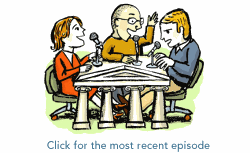 On this week's Slate Political Gabfest, David Plotz, John Dickerson, and Emily Bazelon wrap up 2012 by puzzling over political, moral, ethical, psychological, and familial questions that stump them in everyday life.
Here's a list of the conundrums discussed, along with the names of the listeners who made the suggestions (some edited for length):
Near the beginning, David references a conundrum that was posed to President Obama during a Reddit AMA: "Would you rather fight 100 duck-sized horses or 1 horse-sized duck?"—Several Gabfest listeners suggested this dilemma, including Joshua Leach, Darren Barefoot and Varun Saluja.
Which would be worse morally—murdering a man in cold blood, or casting the decisive vote against a health care reform law that nonpartisan analysis convincingly shows would save 25,000 lives a year? Please describe the philosophical assumptions behind your answer.—Paul Thacker
Address the question of a socially acceptable alternative to "What do you do?" when you're meeting someone for the first time.—Josh Littenberg-Tobias.
Would you rather be overdressed or underdressed? (as in, dressed too formally or too informally)—Andrea Carson Tanner
Which of your political/moral stances will you be embarrassed to admit to your grandchildren?—@Willhoughteling, who noted a similar question on Quora.
As a person who has moved around a lot (and a person who currently lives in D.C., where lots of people aren't "from here"), how long do you have to live in a place to claim you're "from there"?—Nate Puckett
My conundrum: Do I dumb down the course so I keep up enrollment and have a job, or do I stick to my guns and teach the course I love ... and hope I still get minimum enrollment, but possibly not and then lose my job. —Leeann Simmons
If there is one thing (and one thing only) that you can irreversibly change in the way your government is set up, what would it be?—Jeroen ten Berg
Is it better to have serve others unhappily or to focus on your own happiness (real happiness, not the superficial kind) with the faith that doing so will make you a better person in the world? —Dylan Smith
If you were born in a different country, what is one American thing that you wish you could have with you?—Xiaojing Sun
How do you make sure you challenge your fundamental assumptions from time to time?— Puneet Verma

For this week's cocktail chatter, David, Emily, and John shared their favorite political moments from 2012:
Topic ideas for next week? You can tweet suggestions, links, and questions to @SlateGabfest. The email address for the Political Gabfest is gabfest@slate.com. (Email may be quoted by name unless the writer stipulates otherwise.)
Podcast production by Michael Vuolo. Links compiled by Jeff Friedrich.