The 72 Percent White Gabfest
Listen to Slate's show about President Obama's re-election, the future of the GOP, and ballot victories for marriage equality and marijuana decriminalization.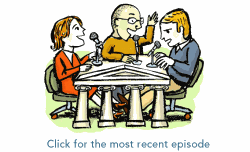 To listen to the discussion, use the player below:
On this week's Slate Political Gabfest, Emily Bazelon, John Dickerson, and David Plotz discuss President Obama's election to a second term, the future of the GOP, and the ballot victories for same-sex marriage and legalized pot (well, at least until the feds get involved).
Here are some of the links and references mentioned during this week's show:
John chatters about the Gabfest's amazing fans—thanks especially to listener Jeff Cardille for sharing an electoral vote tracking spreadsheet. And John reflects on the Obama team's better use of data.
Topic ideas for next week? You can tweet suggestions, links, and questions to @SlateGabfest.
The email address for the Political Gabfest is gabfest@slate.com. (Email may be quoted by name unless the writer stipulates otherwise.)
Podcast production by Michael Vuolo. Links compiled by Jeff Friedrich.