The Moochers, Beggars, and Parasites Gabfest
Listen to Slate's show about Romney and the 47 percent, Sasha Issenberg's The Victory Lab, and gay marriage at the high court.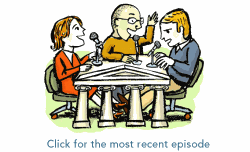 To listen to the discussion, use the player below:
Live Seattle Gabfest: Oct. 4, 6:30 p.m., at Town Hall—we're very excited to announce that Dan Savage will join us as a special guest! Bring your friends, enemies, cats, and pandas. Tickets here.
Live DC Hang Up and Listen Gabfest: Oct. 1, 7 p.m., at Woolly Mammoth Theatre Company in Washington. Tickets here.
On this week's Slate Political Gabfest, Emily Bazelon, John Dickerson, and David Plotz discuss Mitt Romney's take on the 47 percent, Sasha Issenberg's data-driven strategies for winning elections, and the gay marriage cases that may be taken up this term by the Supreme Court.
Here are some of the links and references mentioned during this week's show:
Topic ideas for next week? You can tweet suggestions, links, and questions to @SlateGabfest.
The email address for the Political Gabfest is gabfest@slate.com. (Email may be quoted by name unless the writer stipulates otherwise.) Podcast production by Mike Vuolo and Andy Bowers. Links compiled by Jeff Friedrich.