The Ode to Nixon Gabfest
Listen to Slate's show about Mitt Romney's tax plan, shifting public attitudes on climate change, and a New Yorker profile of Paul Ryan.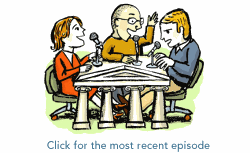 To listen to the discussion, use the player below:
Event: David Plotz will interview—or interrogate—his wife, DoubleX co-founder Hanna Rosin, about her new book The End of Men on Sept. 11 in Washington (tickets here) and on Sept. 12 in New York City (more details here).
Here are some of the links and references mentioned during this week's show:
Beverly chatters about The Communist, a new book by Grove City College professor Paul Kengor.
Emily chatters about a trip to family court in Brooklyn, N.Y.
Topic ideas for next week? You can tweet suggestions, links, and questions to @SlateGabfest
The email address for the Political Gabfest is gabfest@slate.com. (Email may be quoted by name unless the writer stipulates otherwise.)
Podcast production by Andy Bowers and Dale Willman. Links compiled by Jeff Friedrich.