The Legitimate/Forcible Gabfest
Listen to Slate's show about the GOP Convention and a Romney reboot, the Akin aftermath, and the Ferguson-Krugman contretemps.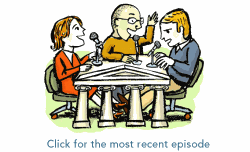 The Gabfest welcomes our new listeners on WNYC, New York Public Radio! For more info about Gabfest Radio, visit our show page.
To listen to the discussion, use the player below:
On this week's Slate Political Gabfest, John Dickerson, David Plotz, and special guest Hanna Rosin discuss Mitt Romney's reboot and the upcoming Republican National Convention, the Todd Akin aftermath, and the contretemps between Niall Ferguson and his liberal critics, including Paul Krugman and James Fallows.
Event: David will interview – or interrogate – his wife, DoubleX co-founder Hanna Rosin, about her new book, The End of Men, on Sept. 11 in Washington (tickets here) and on Sept. 12 in New York (details here).
Here are some of the links and references mentioned during this week's show:
Topic ideas for next week? You can tweet suggestions, links, and questions to @SlateGabfest.
The email address for the Political Gabfest is gabfest@slate.com. (Email may be quoted by name unless the writer stipulates otherwise.)
Podcast production by Mike Vuolo. Links compiled by Jeff Friedrich.