The Flirt, Friend, and Chat Gabfest
Listen to Slate's show about the Obama campaign's bad week, Jeb Bush, stranger danger on Skout, and summer reading for Romney and Obama.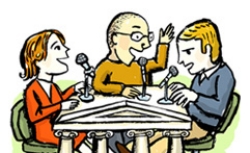 Become a fan of the Political Gabfest on Facebook. We post to the Facebook page throughout the week, so keep the conversation going by joining us there.
To listen to the discussion, use the player below:
Come to our next live show at the Arts and Ideas Festival in New Haven, Conn. on June 27 at 5:30 p.m.
On this week's Slate Political Gabfest, David Plotz, Emily Bazelon, and John Dickerson discuss the recently chaotic Obama campaign, Jeb Bush's comment that Ronald Reagan and George H.W. Bush would not fit into today's GOP, and recommend summer reading for Obama and Romney.
Here are some of the links and references mentioned during this week's show:
The Democracy Corps memo to the Obama campaign.
John's Slate piece on Obama's comments that "the private sector is doing just fine."
Josh Marshall's TPM piece on the criticism of Obama's messaging.
John's Slate piece on Jeb Bush and today's GOP.
Jeb Bush's tweets defending his comments.
Emily's Slate XX Factor post on pedophiles using the Skout app.
A New York Times article on the new "digital divide."
David recommends the following books for Obama and Romney:
John chatters about a new HBO documentary on George H.W. Bush.
Emily chatters about Rafael Nadal's seventh French Open win, which broke Bjorn Borg's 1981 record, and wonders how Borg would fare in today's tennis world.
David chatters about a wrestle-off that took place in Times Square to determine the final Olympic spot on the United States freestyle wrestling team.
The email address for the Political Gabfest is gabfest@slate.com. (Email may be quoted by name unless the writer stipulates otherwise.)
Podcast production by Andrew Bouvé and Dale Willman. Links compiled by Aviva Shen.