The Washington Is Just Awful, but You, Dear Listener, Are Wonderful Gabfest
Listen to Slate's show about Bain Capital, the dismal state of political Washington, and Dharun Ravi's sentencing.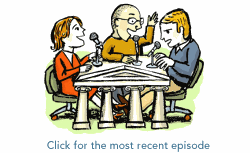 Become a fan of the Political Gabfest on Facebook. We post to the Facebook page throughout the week, so keep the conversation going by joining us there.
To listen to the main discussion, use the player below:
To listen to the Q&A session, use this player:
This week's Slate Political Gabfest was recorded live at Sixth and I Historic Synagogue in Washington, D.C. On the show, David Plotz, Emily Bazelon, and John Dickerson discuss the Obama and Romney campaigns' fight over Bain Capital, the dismal state of political Washington, and the sentencing of Dharun Ravi. They also did a Q&A after the show. Watch video of the event at C-SPAN.
Here are some of the links and references mentioned during this week's show:
David Haglund's Slate piece on the misleading study claiming Congress talks like 10th graders.
Barack Obama's campaign ad, "Steel," attacking Romney for his record at Bain Capital.
John's Slate piece about Cory Booker's comment calling Obama's ad "nauseating."
The New York Times article on Joe Ricketts' super PAC and its plan to use the Rev. Jeremiah Wright in an attack campaign on Obama.
Keith Poole's study of polarization, finding that the most liberal Republican is still to the right of the most conservative Democrat.
Matt Miller's Washington Post column comparing Obama's restructuring of the auto industry to what Bain Capital does.
A Wall Street Journal study finding that the rate of failure at Bain's 77 companies is higher than other private-equity firms.
Thomas Byrne Edsall's book, The Age of Austerity: How Scarcity Will Remake American Politics.
Jonathan Chait's New York Magazine piece on the increasingly extreme and unsustainable GOP.
Matt Bai's New York Times piece on the "grand bargain" of the debt deal negotiations.
Emily's Slate piece on why Dharun Ravi's light sentence was ultimately fair.
Emily chatters about Samantha Shapiro's New York Times Magazine piece on Ina May Gaskin, the original home birth evangelist, and the home birth movement.
David chatters about an essay written by his father, Paul Plotz, on becoming a scientist, which will be published as part of a Slate series on science education.
The e-mail address for the Political Gabfest is gabfest@slate.com. (E-mail may be quoted by name unless the writer stipulates otherwise.)
Podcast production by Andrew Bouvé and Dale Willman. Links compiled by Aviva Shen.