The Purdue Live Gabfest
Listen to Slate's show about Obama vs. Romney Round 1, Iran's role in the election, and the new HBO show Veep.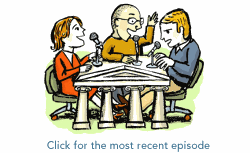 To listen to the Purdue Live Gabfest, use the player below:

Listen to the separate question and answer session here:
Thanks to our sponsor TIAA-CREF for making this live Gabfest at Purdue University possible.
Become a fan of the Political Gabfest on Facebook. We post to the Facebook page throughout the week, so keep the conversation going by joining us there.
This week's Slate Political Gabfest was recorded live at Purdue University in West Lafayette, Ind. David Plotz, John Dickerson, and Emily Bazelon discuss the start of the general election, the Iran talks, and the new HBO show Veep, starring Julia Louis-Dreyfus and created by Armando Iannucci. They also answer audience questions.
Here are some of the links and references mentioned during this week's show:
CBS News/New York Times poll showing Mitt Romney and Barack Obama in a dead heat.
The first Gallup Daily Tracking poll finding Romney beating Obama by 2 points.
John's Slate piece about Obama's comment that he "wasn't born with a silver spoon in his mouth."
Jeffrey Goldberg's Bloomberg column on Israel's confidence that it could strike Iran without many consequences.
HBO's new show Veep, starring Julia Louis-Dreyfus.
Emily chatters about a This American Life interview with Steve Blass, whose name is used to define the phenomenon of athletes suddenly choking, "Steve Blass disease."
John chatters about an analysis of a Mona Lisa copy that found it was painted at the exact same time as when Leonardo da Vinci painted the famous Mona Lisa.
David chatters about Purdue's May 1960 mock political convention in which students prophetically nominated John F. Kennedy.
The e-mail address for the Political Gabfest is gabfest@slate.com. (E-mail may be quoted by name unless the writer stipulates otherwise.)
Podcast production by Andy Bowers and Dale Willman. Links compiled by Aviva Shen.