The Unprecedented Gabfest
Listen to Slate's show about the end of the GOP race, political fallout from the Obamacare case, and Lyndon B. Johnson on the day of JFK's assassination.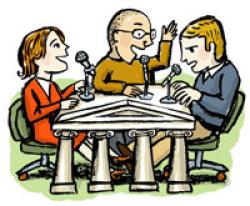 Become a fan of the Political Gabfest on Facebook. We post to the Facebook page throughout the week, so keep the conversation going by joining us there.
To listen to the discussion, use the player below:
John, David, and Emily are returning to Purdue University in Indiana for a live show on April 18. Register for free tickets here.
On this week's Slate Political Gabfest, David Plotz, John Dickerson, and Emily Bazelon discuss Mitt Romney's transitioning to the general election, political fallout from last week's Obamacare argument at the Supreme Court, and a New Yorker article about Lyndon B. Johnson on the day of JFK's assassination.
Here are some of the links and references mentioned during this week's show:
George Will's editorial arguing for Paul Ryan as Mitt Romney's running mate.
John's Slate piece on Mitt Romney's preparation for the general election.
A Gallup poll finding Romney trailing Obama by 18 points in swing states.
Libby Copeland's Slate post questioning whether or not contraception issues are actually behind Romney's unpopularity with women.
A Washington Post/ABC News poll finding Romney's unfavorability rating at 50 percent and favorability at 34 percent.
Obama's comment that the Supreme Court's overturning of the health care law would be "unprecedented."
Emily's Slate review of Rachel Maddow's new book, Drift.
Robert Caro's book, The Passage of Power, on Lyndon B. Johnson.
Robert Caro's New Yorker article on the day of JFK's assassination.
John chatters about new research that recalculated the death toll from the Civil War to 750,000 people, or more than a 20 percent increase.
Emily chatters about new research finding that the risk of autism in a child increases when the father is over the age of 35.
David chatters about his vacation in Costa Rica and how America could learn something from the country.
The e-mail address for the Political Gabfest is gabfest@slate.com. (E-mail may be quoted by name unless the writer stipulates otherwise.)
Podcast production by Andrew Bouvé and Dale Willman. Links compiled by Aviva Shen.