The Etch A Sketch Gabfest
Listen to Slate's show about Romney after Illinois, Trayvon Martin, and the upcoming Supreme Court argument on the Affordable Care Act.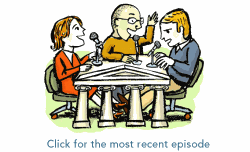 Become a fan of the Political Gabfest on Facebook. We post to the Facebook page throughout the week, so keep the conversation going by joining us there.
To listen to the discussion, use the player below:
John, David, and Emily are returning to Purdue University in Indiana for a live show on April 18. Register for free tickets here.
On this week's Slate Political Gabfest, Emily Bazelon, John Dickerson, and David Plotz discuss Mitt Romney's win in Illinois, the "self-defense" shooting of Trayvon Martin in Florida, and the Supreme Court's upcoming hearings on the Affordable Care Act.
Here are some of the links and references mentioned during this week's show:
John's Slate piece on Romney's win in Illinois.
William Saletan's Slate piece on Eric Fehrnstrom, Mitt Romney's "Etch A Sketch" adviser.
A Pew poll asking Illinois voters about religious beliefs and attendance.
Jeffrey Goldberg's Bloomberg column asserting that Israel is ready to attack Iran's nuclear facilities.
Emily's Slate piece on Florida's "Stand Your Ground" laws that allow George Zimmerman to avoid arrest.
A Washington Post article quoting anonymous Department of Justice officials who are concerned they can't prosecute Trayvon Martin's case as a hate crime.
A ThinkProgress article finding just one segment about Trayvon Martin on Fox News compared with 13 on MSNBC and 41 on CNN.
Gail Collins' New York Times column on the NRA's increasingly extreme positions.
Melvyn Bragg's The Adventure of English on Audible.com.
Tina Fey's Bossypants on Audible.com.
Paul Starr's New York Times op-ed arguing that if libertarians want to opt out of the individual mandate to buy health insurance, they should also opt out of the health care system.
Jack Balkin's Atlantic piece about the Supreme Court's tendency to reflect the political climate of the times.
The Kaiser Family Foundation poll on the Supreme Court and the Affordable Care Act.
Dahlia Lithwick's Slate piece on the Supreme Court's consideration of public opinion.
Emily chatters about the Supreme Court's decision to expand plea bargain rights for criminal defendants.
John chatters about a video he found on kottke.org of the mimic octopus, which can mimic at least 15 species.
David chatters about a blog post by Joshua Bearman on a diplomatic cable describing an elaborate Dagestani wedding.
The e-mail address for the Political Gabfest is gabfest@slate.com. (E-mail may be quoted by name unless the writer stipulates otherwise.)
Podcast production by Andrew Bouvé and Dale Willman. Links compiled by Aviva Shen.