The Killer Dolphin Gabfest
Listen to Slate's show about the Santorum surge, the contraception debate, and the 9th Circuit's decision on Proposition 8.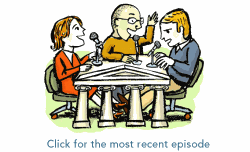 Become a fan of the Political Gabfest on Facebook. We post to the Facebook page throughout the week, so keep the conversation going by joining us there.
To listen to the discussion, use the player below:
Join David, John, and Emily for cocktail chatter before the live show on Wednesday, Feb. 15. A limited number of tickets are available here.
On this week's Slate Political Gabfest, Emily Bazelon, John Dickerson, and David Plotz discuss Rick Santorum's sweep of three states, the backlash against Obama's contraception coverage mandate, and the 9th Circuit's decision overturning California's Proposition 8, which bans same sex marriage.
Here are some of the links and references mentioned during this week's show:
John's Slate piece on Santorum's victories in Missouri, Minnesota, and Colorado.
A photo of John McCain's mother, Roberta, celebrating her 100th birthday.
The Guttmacher Institute study finding that 98 percent of sexually active Catholic women in the United States have used some form of birth control.
A Public Policy Polling poll finding that 53 percent of Catholic voters support Obama's requirement that insurance companies cover birth control with no additional out-of-pocket fees.
A Guttmacher Institute report on contraception coverage laws in Hawaii and other states, and how they handle religious exemption.
E.J. Dionne's Washington Post column accusing Obama of a breach of faith over the contraception coverage law.
The PBS Newshour segment in which Mark Shields criticized the contraception coverage law.
A Politico article on David Axelrod's appearance on Morning Joe where he signaled a desire to compromise on contraception.
The 9th Circuit's decision, written by Judge Stephen Reinhardt, upholding the lower court's finding that Proposition 8 is unconstitutional.
Dahlia Lithwick's Slate analysis of the Proposition 8 decision.

Emily notes that it is the 50th anniversary of the Eichmann trial in Israel, then chatters about the obituary of the last World War I veteran, Florence Green, and about Isa Leshko's photographs of elderly animals.

John chatters about Michael Kranish's new book, The Real Romney, which was excerpted in Vanity Fair.

David chatters about The Day of the Dolphin, a 1973 movie about training dolphin assassins, and his favorite story, "The Mystery of the Millionaire Metaphysicians" by James Ryerson.

The email address for the Political Gabfest is gabfest@slate.com. (Email may be quoted by name unless the writer stipulates otherwise.)

Podcast production by Andrew Bouvé and Dale Willman. Links compiled by Aviva Shen.