The Mormons Are So Good Looking Gabfest
Listen to Slate's show about the State of the Union, Mitt Romney's taxes, Newt's funder Sheldon Adelson, and the indictment of ex-CIA officer John Kiriakou.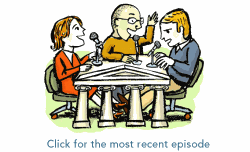 Become a fan of the Political Gabfest on Facebook. We post to the Facebook page throughout the week, so keep the conversation going by joining us there.
Join David, John, and Emily at the 92YTribeca for a Gabfest live show on Feb. 15. For details and tickets, click here.
On this week's Slate Political Gabfest, Emily Bazelon, John Dickerson, and David Plotz discuss Mitt Romney's taxes, the State of the Union, Sheldon Adelson's influence over Gingrich, and the indictment of ex-CIA officer John Kiriakou.
Here are some of the links and references mentioned during this week's show:
Mitt Romney's tax returns.
John's Slate piece on Romney and Gingrich's insider status.
Dan Check's Slate calculator that finds how long it would take Romney to make your annual salary.
John's Slate piece on the State of the Union.
Dave Weigel's Slate blog post on the Gingrich-Adelson quid pro quo.
The NBC interview with Gingrich about Sheldon Adelson's support.
A Forbes profile of Sheldon Adelson.
Newt Gingrich's 2005 essay on Palestinian rights.
The ABC News interview in which John Kiriakou defended waterboarding as torture.

John chatters about the New York Times' series on Apple, iEconomy.
Emily chatters about the term "a crush of shrimp."

David has three chatters. He wonders why Mormons are so good-looking, recommends Robert Kagan's article in The New Republic on the "myth of American decline," and chatters about a Kottke blog post saying that some of 10th President John Tyler's grandchildren are still alive.

The email address for the Political Gabfest is gabfest@slate.com. (Email may be quoted by name unless the writer stipulates otherwise.)

Podcast production by Andrew Bouvé and Dale Willman. Links compiled by Aviva Shen.