The Head Made of Green Cheese Gabfest
Listen to Slate's show about Jodi Kantor's new book The Obamas, the New Hampshire primary, and a Supreme Court case on religious freedom in employment.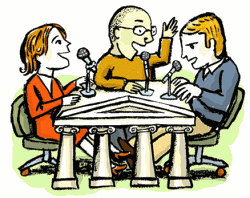 Become a fan of the Political Gabfest on Facebook. We post to the Facebook page throughout the week, so keep the conversation going by joining us there.
To listen to the discussion, use the player below:
On this week's Slate Political Gabfest, John Dickerson and Emily Bazelon talk with author Jodi Kantor about her controversial new book The Obamas. They also discuss the GOP primary in New Hampshire and a Supreme Court case on religious freedom and ministerial exception.
Here are some of the links and references mentioned during this week's show:
Jodi Kantor's book, The Obamas.
A CBS News interview with Michelle Obama on her reaction to Kantor's book.
John's Slate piece on Romney's New Hampshire victory.
A CBS News article about Sheldon Adelson's $5 million donation to Gingrich's super PAC.
John's Slate piece on the Republican attacks on Romney's record at Bain Capital.
The Gingrich super PAC's ad attacking Romney as a "corporate raider."
John's Slate piece on Gingrich's "pious baloney" comment.
Bill Kristol's Weekly Standard piece on Bain Capital.
The Pew Research poll finding that two-thirds of the public believe there are strong conflicts between the poor and the rich.
Hosanna-Tabor Church v. Equal Employment Opportunity Commission, a Supreme Court case deciding whether or not a church can be sued for discrimination by religious teachers.
Employment Division v. Smith, a case about whether Native Americans could be exempt from Oregon's ban on peyote for religious use.
Emily chatters about a Supreme Court case, Compucredit v. Greenwood, which allows credit-card repair firms to force arbitration because of the fine print of loan agreements. She also chatters about Lena Dunham's film, Tiny Furniture.
John's chatter focuses on a quote from Kottke.org about what it's like to deeply understand math.
The email address for the Political Gabfest is gabfest@slate.com. (Email may be quoted by name unless the writer stipulates otherwise.)
Podcast production by Andrew Bouvé and Dale Willman. Links compiled by Aviva Shen.