The 120 Miles in 90 Minutes Gabfest
Listen to Slate's show about Iowa and New Hampshire, Richard Cordray's recess appointment, and American economic immobility.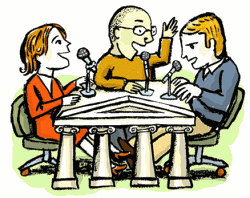 Become a fan of the Political Gabfest on Facebook. We post to the Facebook page throughout the week, so keep the conversation going by joining us there.
Join David on Jan. 11 at Slate's Invent Your Future event in Chicago. RSVP and find more details here.
On this week's Slate Political Gabfest, Emily Bazelon, John Dickerson, and David Plotz discuss the GOP contests in Iowa and New Hampshire, Obama's recess appointment of Richard Cordray to the Consumer Financial Protection Bureau, and a New York Times article about American economic immobility.
Here are some of the links and references mentioned during this week's show:
John's Slate piece on Santorum's surprise surge in Iowa.
A CBS News video of Santorum's comment that he "doesn't want to make black people's lives better by giving them somebody else's money."
John's Slate piece on McCain's endorsement of Romney.
Dave Weigel's Slate blog post on Cordray's recess appointment.
James Fallows' Atlantic piece on how the Republicans' blocking of Cordray's appointment amounts to "nullifcation."
Ezra Klein's Washington Post blog post explaining why Obama is only making four particular recess appointments.
The New York Times piece on economic mobility in America versus in European countries.
John chatters about how students in New Hampshire booed Santorum for equating gay marriage and polygamy. He also chatters about a list of "don'ts" for women on bicycles from the 1895.
The email address for the Political Gabfest is gabfest@slate.com. (Email may be quoted by name unless the writer stipulates otherwise.)
Podcast production by Andrew Bouvé and Dale Willman. Links compiled by Aviva Shen.