The Thanksgiving Argument Settler Gabfest
Listen to Slate's show about the supercommittee's failure, the GOP debate, and how to win your Thanksgiving dinner table arguments.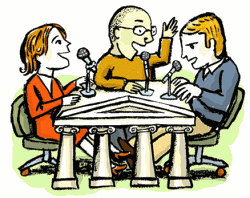 Become a fan of the Political Gabfest on Facebook. We post to the Facebook page throughout the week, so keep the conversation going by joining us there.
For listening to the Gabfest on the go, try Stitcher Smart Radio, a free app for your iPhone, Android phone, or BlackBerry that allows you to stream any podcast right over your cell connection. Download it at www.stitcher.com/politicalgab, and use the promo code SLATE.
On this week's Slate Political Gabfest, Emily Bazelon, John Dickerson, and David Plotz discuss the supercommittee's failure to reach a deal, the GOP national security debate, and how to win your Thanksgiving dinner table arguments.
Here are some of the links and references mentioned during this week's show:
Michael Moran's Slate blog about the future of American power, The Reckoning.
John's Slate piece on Newt Gingrich's "humane" immigration policy proposal.
John's Slate guide to settling Thanksgiving dinner table arguments.
A photograph of an 84-year-old woman who was pepper-sprayed at an Occupy protest in Seattle.
The viral video of UC-Davis cops pepper-spraying students at point-blank range.
A Stranger blog post about the woman who allegedly miscarried after being pepper-sprayed at an Occupy protest in Seattle.
The latest CBS News poll finding 58 percent of Republicans prefer a candidate who they agree with to a candidate who can beat Obama.
The Center for American Progress' demographic report that studies how rise in minority voters will impact the election.
Advertisement

John chatters about a clip from an Indian game show that Jason Kottke called "the craziest thing you'll ever see on the web."
Emily chatters about Kate Boo's upcoming book, Behind the Beautiful Forevers.
David chatters about The Hive's Invent Your Future project, which is collecting stories about starting or re-starting careers, and about rediscovering the original Muppet Show (including the Swedish Chef).
The email address for the Political Gabfest is gabfest@slate.com. (Email may be quoted by name unless the writer stipulates otherwise.)
Podcast production by Andrew Bouvé and Dale Willman. Links compiled by Aviva Shen.
TODAY IN SLATE
The Slatest
Ben Bradlee Dead at 93
The legendary Washington Post editor presided over the paper's Watergate coverage.