The Show Me Your National ID Gabfest
Listen to Slate's podcast about the GOP race, Tuesday's election results, and Joe Paterno.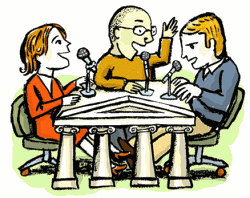 Become a fan of the Political Gabfest on Facebook. We post to the Facebook page throughout the week, so keep the conversation going by joining us there.
On this week's Slate Political Gabfest, David Plotz, Emily Bazelon, and Will Saletan discuss Herman Cain and Rick Perry's "oops" moment, Tuesday's election results, and the firing of Joe Paterno.
Here are some of the links and references mentioned during this week's show:
Dahlia Lithwick's Slate piece about conservatives' reluctance to acknowledge the existence of sexual harassment.
A New York Times blog post about the incoherence of the polling results on Herman Cain's scandal.
A video of Rick Perry's "oops" moment at the debate in Michigan.
Dave Weigel's Slate piece on Rick Perry's campaign-killing flub.
Dave Weigel's Slate piece summing up Tuesday's election results.
A study by the Brennan Justice Center showing that minorities and people earning less than $25,000 a year are much less likely to have an ID.
The grand jury presentment on the Sandusky child abuse case.
Will chatters about a study that found signs of awareness in 3 out of 16 vegetative patients by using EEG tests.
Emily chatters about a Supreme Court case, U.S. v. Jones, on police use of GPS tracking without a warrant.
David chatters about the Daily Caller's slide show, "Turtles That Look Like Mitch McConnell," and Al Jarnow's cosmic clock from PBS' 3-2-1 Contact.
The email address for the Political Gabfest is gabfest@slate.com. (Email may be quoted by name unless the writer stipulates otherwise.)
Podcast production by Andrew Bouvé and Dale Willman. Links compiled by Aviva Shen.