The Fending Off Total Disaster Gabfest
Listen to Slate's show about Obama's debt plan, a new, unflattering book about the Obama White House, and the execution of Troy Davis.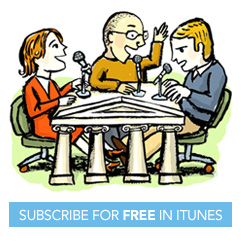 Become a fan of the Political Gabfest on Facebook. We post to the Facebook page throughout the week, so keep the conversation going by joining us there.
Listen to the Gabfest for Sept. 23, by clicking the arrow on the audio player below:
On this week's Slate Political Gabfest, David Plotz, John Dickerson, and Emily Bazelon discuss President Obama's debt plan, a new book by Ron Suskind that paints an unflattering picture of the Obama Administration, and the execution of Troy Davis.
We're looking for sponsors! Send us an email at podcasts@slate.com if your company might be interested in reaching the best audience on the Internet.
Here are some of the links and references mentioned during this week's show:
John's Slate piece on Obama's debt plan and "staying angry."
A video of Elizabeth Warren declaring, "there is nobody in this country who got rich on his own."
Jacob Weisberg's Slate piece about Ron Suskind's Confidence Men.
A Washington Post blog post about the pseudo-debate surrounding the Solyndra scandal.
The 1996 Antiterrorism and Effective Death Penalty Act (AEDPA).
Dahlia Lithwick's Slate piece on what Troy Davis' execution means for the criminal justice system.
The Root's piece about the recent execution of James Byrd's killer, white supremacist Lawrence Russell Brewer.
This week, John chatters about a JFK quote from Running Alone by John MacGregor Burns, and on Reuters' Full Focus photography blog.
Emily also chatters about a quote from Ralph Waldo Emerson's story "Circles."