DoubleX Gabfest: The Kim K. Skills Edition
Listen to Slate's show about dating while mentally ill, the new culture of "no body talk" at sleepaway camp, and Kim Kardashian: Hollywood.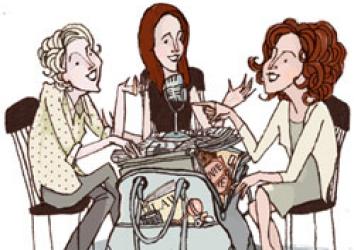 Listen to the DoubleX Gabfest by clicking the arrow on the audio player below:
Advertisement

In this week's Gabfest, Slate editors Hanna Rosin and Jessica Winter and New York editor Noreen Malone talk to Molly Pohlig about her Slate article on dating while mentally ill. Then, the "no body talk" culture of sleepaway camp and Kim Kardashian: Hollywood.
Some of items discussed in the episode:
Jessica recommends prettifying your Instagram by following fashion historian Laura McLaws Helms (@laurakitty), who 'grams beautiful spreads from vintage fashion magazines.
TODAY IN SLATE
Politics
Talking White
Black people's disdain for "proper English" and academic achievement is a myth.
Operation Backbone
How White Boy Rick, a legendary Detroit cocaine dealer, helped the FBI uncover brazen police corruption.